While I was in Waco last month, I tried popcorn with white chocolate. Have you ever tried it? OMG, it's sooooooo delicious! I'd never had it before. But as soon as I tried it, i couldn't stop stuffing my face with it. LOL It's addicting. I've had popcorn sprinkled with sliced/round jalapenos on it but never with chocolate. Never would it have crossed my mind to try it that way. Before I left, I made sure to watch my niece make it. It's soooooo easy you guys. I make it at home every now and then. I made it for New Year's to snack on. And I am making it again tonight to snack while we watch a movie on t.v. Here's my attempt to show you how to make it. It's a synch! If I can do it, YOU can too. If you like chocolate and popcorn try this! You'll feel in heaven! LOL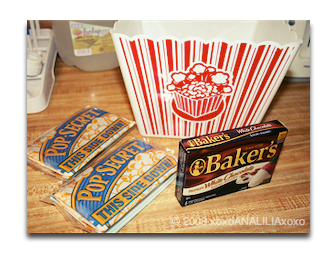 Ingredients:
*2 bags of Popcorn
*Lots of white chocolate! Not sure how much you're supposed to use but I use 2 boxes of the Baker's Premium White Chocolate Baking Squares *6 individually wrapped 1 oz. squares (they coat my popcorn with white chocolate nicely!)
*A microwavable deep bowl (to melt the chocolate in)
*A LARGE popcorn container
1. Throw the popcorn to pop in the microwave. Obviously one at a time.
2. Pop one bag first. Pour into popcorn container.
3. Open ONE box of white chocolates. Unwrap all and put into microwavable bowl.

4. Put in microwave to melt. (Follow instructions on the box) About 2 minutes.
5. You can stop and stir and restart to make sure chocolate is melting evenly.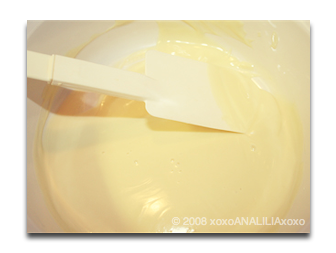 6. Once chocolate is completely melted, pour slowly some over popcorn. Stir and repeat until all chocolate has covered all popcorn.
7. Repeat process with the second bag and box of chocolates.
8. Once you're done, put the popcorn in the container into the fridge and let sit for 30 minutes.
After 30 minutes, take out, stir around a bit and stick back in the fridge. (This helps prevent the popcorn from getting clumped up from all the chocolate). Repeat as many times you want or feel needed.
After about 2 hours, it's ready for you to eat and enjoy!
Let me know if you tried making this. I swear it's sooooooo good. I can't wait to have some tonight.